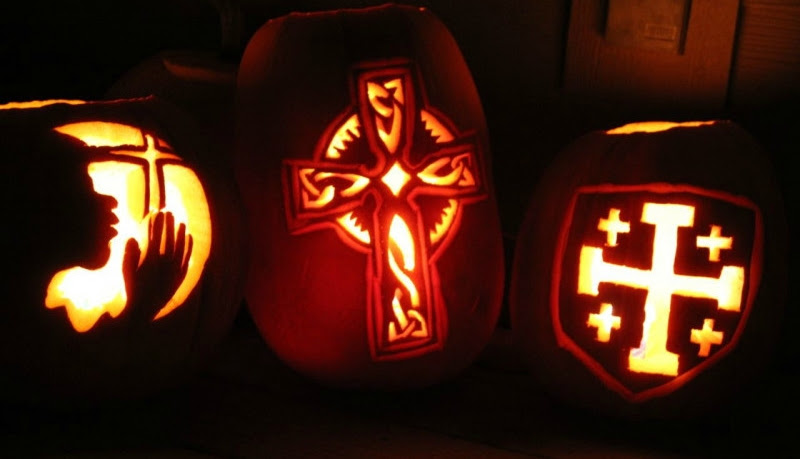 Catholics and Halloween? Is it ok to celebrate this day? Well, during this COVID time, we're told NO carnivals, haunted houses, door-to-door trick-or-treating, and more. There are, however, safe alternatives that are shared in this link: 
https://s.docworkspace.com/d/AJgEp3i6k6pJ6KOc8qWdFA
. 
As your family celebrates Halloween, here's a bit of trivia and thoughts to ponder from the Catholic perspective:

The customs of Halloween are a mixture of Catholic popular devotions, and French, Irish, and English customs all mixed together.
  * The custom of dressing up comes from the French.
  * Carved Jack-o-lanterns come from the Irish, who originally carved turnips.
  * English Catholics initiated the custom of begging from door to door, which was a purer form of trick-or-treating. Children would go door-to-door begging their neighbors for a 'Soul Cake'. In turn, they would say a prayer for those neighbors' dead saying,

"A Soul Cake, a Soul Cake, have mercy on all Christian souls for a Soul Cake!"
"In the modern world, and especially in English speaking countries, Halloween has become one of the most important holidays of the year, with millions of children and adults dressing up as their favorite heroes, superstars, ghouls, and goblins.
While some people have connected Halloween to earlier pagan celebrations of the new year, Halloween actually has significant Catholic roots. The name itself comes from All Hallow's Eve – that is, the Vigil of All Saints' Day, when Catholics remember those who have gone before us to enter our heavenly home. Immediately afterward, on November 2, the Church commemorates all the faithful departed still detained in Purgatory and prays in suffrage for them.

Dr. Malcolm Brown
Alcuin Institute for Catholic Culture
And now, here are a few reminders for the upcoming weeks: 
Sunday 11:30 am Mass resumes this Sunday, Nov. 1st ~ Outdoors

Monday, Nov. 2, 6:00 pm All Souls Day Mass ~ Indoors; reservation      needed; c

lick here: 

https://stlec.flocknote.com/signup/21863

Tuesday, Nov. 3 ~ Election Day. VOTE! 

View the Catholic Voting Guide by clicking below:          

                    www.EWTN-CatholicVoter'sGuide.com

Thursday, Nov. 5, 7:30 am weekday Mass ~ Indoors

Saturday, Nov. 14, 6:15-7:15 pm ~ WITNESS: An Evening of Prayer &    Hope

; event sponsored by STL's Knights of Columbus 

Vespers, Music, and a Witness Talk 

 

 

Outdoors; immediately following our indoor Mass

No reservation needed

Please bring your own chair. If you're attending Mass, you may set up your chair beforehand.
With a very grateful heart,
                          Jim Sheehan                                       January 1934 ~ October 2020        Jim had many years of business experience in the management of large corporate enterprises. He used his sound knowledge and skills to bring people together throughout his life. He certainly brought a lot of us together at St. Luke and served us well as a leader on our Parish Pastoral Council and as a Knight of Columbus.                             May he rest in peace.
Sent by Jane Alfano
  Reply